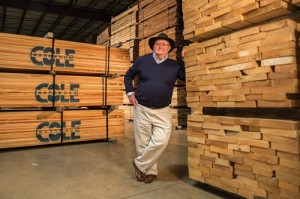 Milt and Jean Cole bought Cole Hardwood, formerly, John I. Shafer Lumber Co., in 1986 with a 225,000 kiln capacity and 80,000 square feet storage space. After a devastating fire in 1998 that destroyed 8.5 million board feet of inventory and eleven buildings, Milt Cole decided to rebuild instead of cashing in and walking away. Employees never went without a paycheck. Rebuilding started immediately and now based on Cole's "a positive attitude is the secret to life," the company is bigger and better than ever. Cole quadrupled it's kiln capacity, increased inventory storage over 200 percent, and installed an energy-saving state of the art dust collection system. Canopies were built to enable production all year round protected from inclement weather and a fire-suppression sprinkler system was installed.
Cole Hardwood has grown to be one of the nation's leading hardwood suppliers. Our customer list of over 1300 companies have a supply demand ranging from 1000 to multi-million board feet. This exemplifies our diversity and customer service that continues to go above and beyond every time. Our capabilities include exporting sixty percent of our product serving over forty countries around the world, mostly Asia.
Cole is active in the community, supporting many organizations to elevate those around us. We donate well over 100,000 dollars a year to give back to our community and help those in need. We know that we would not exist today without the love and support of our community.
We have been a trusted and respected source for a quality product in the Hardwood Industry for thirty years. Our success can be attributed to great leadership, organization, and solid employees you can count on every time. Cole Hardwood is a member of the National Hardwood Lumbermen's Association, Indiana Hardwood Lumbermen's Association, Appalachian Hardwood Manufacturer's Inc., the Hardwood Distributor's Association, the Kentucky Forest Industries Association, the Lake States Lumber Association, and the American Hardwood Export Council.
Cole Hardwood… "The Product, The People, The Pride."